Building an Art Installation for Medecins Sans Frontieres
Like many artists, I always dreamt about the opportunity to create work abroad. I got that opportunity last summer making public art installations in Kibera, Kenya. If it weren't for the photographs, I would still think it's a dream. Never would I have imagined that my path to becoming an artist was paved through my work with Doctors Without Borders/Medecins Sans Frontieres (MSF).
You see, I always dreamt about working for MSF as a doctor. But as I grew into myself and learned how to tune into my interests, I found the courage to pursue my real passion––creating art for social impact. Luckily these skills were still useful to MSF and I found my way into the organization. Today, I create work to raise awareness and advocate for the health needs of our patients.
That's how I ended up in Kenya last summer. I was on mission as the communications manager, there to document the history and transformation of MSF's work in Kibera. MSF started working in Kibera in 1997, originally to provide care for people living with HIV, and later expanded services for TB treatment, vaccinations, primary health care, nutrition programs, maternal child health, non-communicable diseases, and sexual and gender-based violence counseling. After 20 years, it was time to hand over our clinics to the Ministry of Health.
Part of my assignment was to create art with the community to commemorate our time together.
I felt excited for this assignment, but I also struggled with self doubt. I think the doubt stemmed from my insecurity of being a foreigner. I wondered how I, someone who dropped into this community at the last chapter, could find the means to capture this relationship in an authentic way. I looked around Kibera and noticed all these beautiful murals that conveyed health positive messages. I wondered how much of that voice came from the foreign organizations who commissioned the mural, rather than from the community. I noticed how little wall space was available, most walls serving a more useful purpose of displaying signage for local businesses. I studied previous public art installations in Kibera. Most famously, French artist JR's "Women are Heroes" project. JR covered rooftops in Kibera with photographs of women he interviewed, celebrating their power and contributions to the community. I discovered that the artwork itself had a practical purpose. The material was water resistant, so it provided additional protection to these homes during the rainy season. I liked the idea of making art not only pretty, but useful as well.
So I tasked myself with three objectives:
Capture and highlight the voice of the community
Collaborate with local artists
Make art that is useful for the community
To try to capture the voice of the community, we conducted interviews and workshops with artists and community members. The outcomes of these activities resulted in messages along the theme of "No stigma against HIV." While I fundamentally believed in this message, I got the sense that this was what they thought I wanted to hear, not what they really wanted to say. It was then that I recognized how I had created an environment in which they could only speak through this filter. I reflected on the white MSF vests my colleagues and I had to wear, how it effectively "othered" my colleagues who were born, raised, and still living in Kibera. I thought about the camera equipment we brought with us, the ones we pointed in people's faces to capture the moment. I realized how the mix itself was unnatural, how this group of people we brought together would never have gathered like this on their own.
In an effort to break out of this artificial environment, I asked to walk around Kibera one day. We usually drive due to security protocols, but I felt it was impossible to get to know the true vibe of the community through the window of a car.
My colleague Siama, a health promoter and former patient, took me all around Kibera, weaving our way through the tight alleyways. We spent the whole day walking without an aim, and it was the first time I felt like I really experienced Kibera. Everywhere we went, people wanted to stop and talk to Siama. She has been working with MSF for 15 years and people wanted to know how she was doing and to catch up on their lives. Through these dynamics, I witnessed the transformation of individuals. People who Siama had met years ago on their deathbeds were now walking around with their families. I could feel their sadness about MSF leaving, but I could also see their determination to take care of each other as they exchanged guidance.
There was something special in these interactions that I wanted to capture in the installation. I wanted to somehow show that even when MSF leaves, the spirit of prioritizing health and empowering patients continues through the lived experiences of those we've met along the way.
I looked online and found "invisible paint"–paint that only appears when it rains outside. I thought this balance between what's seen and unseen perfectly captured this dynamic. Though our physical presence may be gone, the foundation that we've built together remains.
I was really excited to work with this material, and wondered what we could do with it. I brought the idea to Faith, my main collaborator and talented Kiberan artist, to see what she thought. The challenge with this paint is that that it only works on cement, and there aren't many cement surfaces in Kibera. Faith suggested we build a cement structure for us to paint on. I loved this idea, but we struggled to think about what we could build that would be useful to the community. We thought about building cement tiles or a cement tower. Nothing seemed right. At some point, I peered outside of the art studio and noticed around 15 men sitting under a stage to find relief from the sun. The stage is permanently located in an open field outside and is used as a gathering area for special events. I often found people sitting in the scaffolding under the stage because it's one of the few places to sit in Kibera out of the heat of the sun. I thought, what if we built tall cement benches so the community can use and interact with our artwork?
I had no idea what it takes to create cement benches, but Siama and Faith were 100% confident. I made a dinky little pencil sketch of what I wanted the benches to look like, and we brought it to a contractor.
Here are the stages we went through:
Pencil sketch
Updated with dimensions
Clay model
Steel and wire foundation
Pouring cement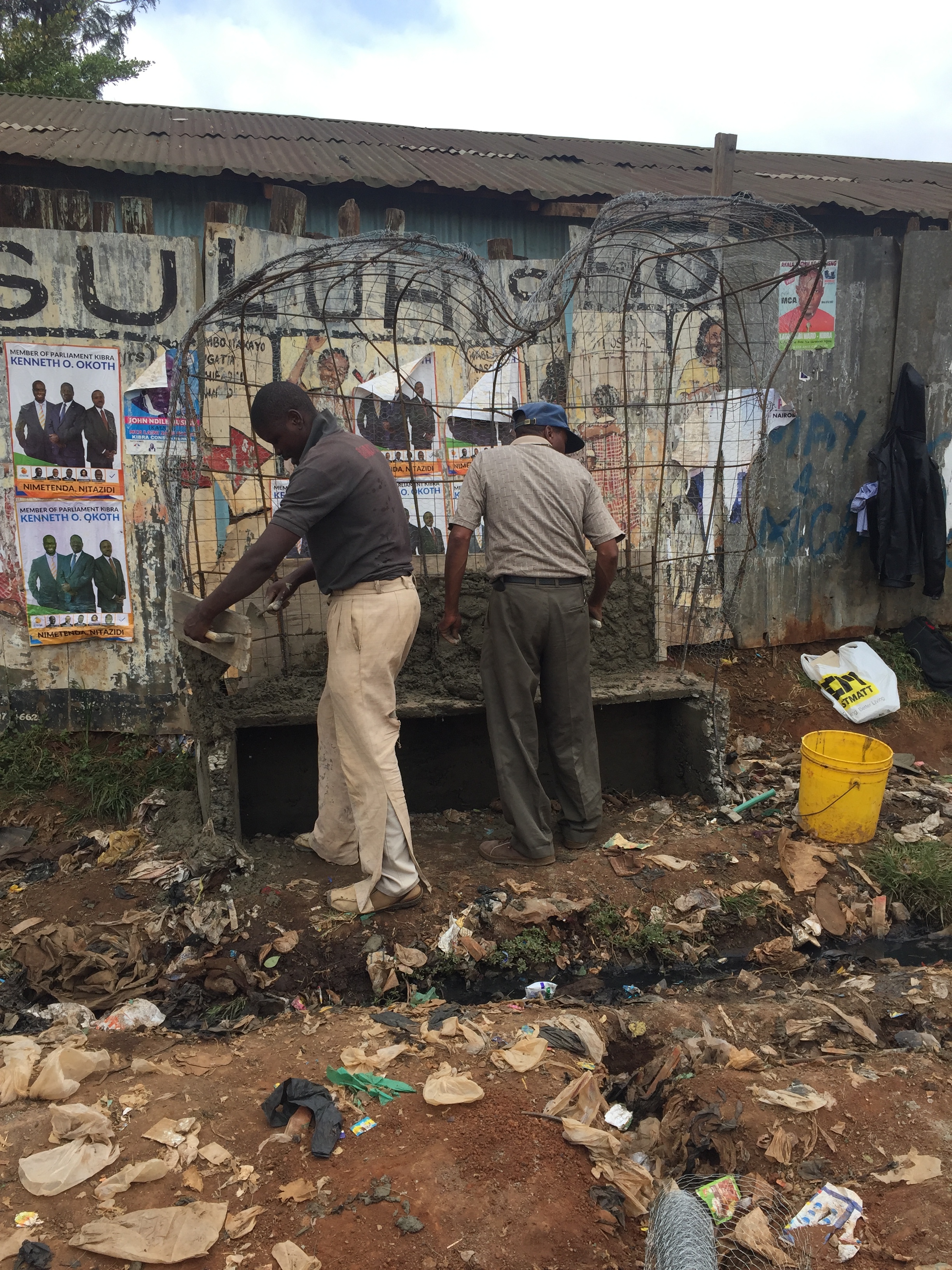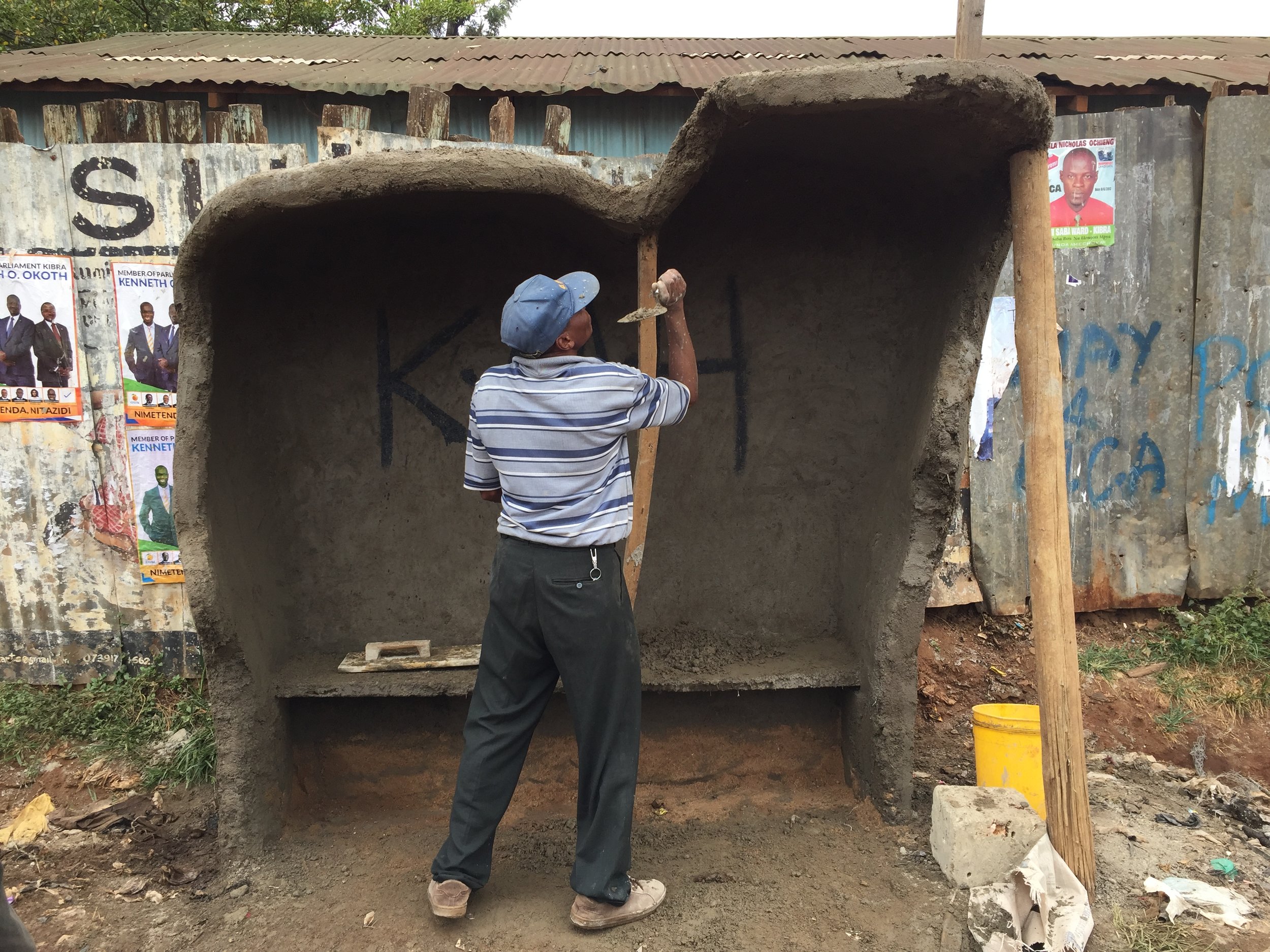 Once the benches were completed, we waited two weeks for the cement to dry. Just as we were ready to paint in mid-August 2017, we decided to postpone due to the post-election unrest. Our MSF teams (including Siama) were busy providing emergency care for those affected in Kibera, Mathare, Dandora, Soweto, and Kisumu. At this point, I was already at the end of my mission and could not extend any longer. I left Kenya with a heavy heart, concerned for the safety of my friends in Kibera, and bummed that I wouldn't be there to see the completed creation.
But in a way, it was kind of perfect that I was not there for the final step. The artists freestyled the murals and, boy, are they beautiful.
During that period of time when we were waiting to paint, some folks actually spray painted messages on the benches. Instead of painting over these messages, the artists chose to incorporate them into the design.
See this one that says "Peace Alive," which appeared on our bench the day after election results. This was the perfect, authentic community message that was only possible given the right amount of time and patience.
*Note: Artists involved in the creation Faith Atieno, Chesta Chire, Fredrick Nyayo, Japheth Nyamosi, Ibrahim Oduor, Josphat Ndeti, Joakim Kwaru, Kevo Stero, Prince Alpha, Francis Okoth.
All photographs by Bryan Jaybee.