Creating Space to Design a More Equitable Future: The Story of Hindsight
by Makeda Marshall-NeSmith, Giovania Tiarachristie, and The Diversity Committee (DivComm)
A group of young planners of color in New York City were tired of attending dry and expensive urban planning conferences. Speakers, participants, and panel topics were majority White; there was limited to no mention of race, immigration, criminal justice, and other issues affecting historically marginalized groups; and social equity was treated as a niche topic within planning, rather than its core. Yes, cities are cool; but because of our dirty history of planning--from racial zoning, to redlining, to urban renewal, and gentrification--the actions of today's planners are never neutral: they are either perpetuating or undoing racial inequity. But the message that mainstream planning conferences sent was that equity was only a "soft" planning topic, and that the profession did not value the non-technocratic, diverse perspectives brought by people of color, immigrants, LGBTQ planners, planners with disabilities, or low income residents. Growing increasingly frustrated, members of the Diversity Committee of the American Planning Association New York Metro Chapter, or DivComm, started brainstorming what their "dream urban planning conference" would look like. We envisioned an affordable, accessible, and inclusive conference where all of the sessions focused on issues and solutions for and by historically marginalized communities; the speakers were majority black and brown and represented various intersections of identity; and conference food and paraphernalia were made by local Minority and Women Owned Business Enterprises (MWBEs). Out of this ambitious dream and relentless passion and dedication, was born "Hindsight" : an all-day conference on urban planning through an equity lens.
Honoring the 100th Anniversary of Buchanan v. Warley
In June 2017, Tiffany-Ann Taylor and Giovania Tiarachristie, Co-Chairs of DivComm, led a small team of DivComm volunteers to plan and execute Hindsight. The first annual conference was held in November 2017 to commemorate the 100th Anniversary of Buchanan v. Warley (1917), the U.S. Supreme Court decision that invalidated racial zoning on the grounds of the 14th Amendment. This conference aimed not only to explicitly shed light on the racist history of planning and its lasting effects, but also to provide an opportunity for urban planners, students, academics, organizers, residents, and specialists in related fields to share strategies for tow to foster more equitable places. DivComm put out a Request for Session Proposals (RFSP), which included requirements to describe how proposals centered equity in planning and how the speakers represented diversity in race gender, age, sexuality, sector, ability, or other identities. They encouraged interactive and non-traditional sessions across a wide range of planning topics. The organizers realized that they had tapped into an unmet need when they received more than 60 proposals from across the country. The final conference schedule hosted 28 sessions across a variety of planning topics, each centering equity and providing a platform for underrepresented voices. To ensure accessibility, DivComm kept the cost to attend the conference low at $40 for general admissions, $10 for students, $20 for community groups, and other available discounted rates. It was held at the CUNY Silberman School of Social Work in historic East Harlem, intentionally held at a public institution in a vibrant community of color. The conference sold out a week before the event date, with over 400 participants from across the country (and a few from around the world) to come together to reflect and reimagine planning's role in a more equitable future. It was clear that the demand was high for Hindsight to become an annual conference.
Setting the Bar Higher in Year Two
With both the success and lessons of the previous year in tow, DivComm geared up for year two of Hindsight at set the bar higher. The 2018 Hindsight commemorated the 50th Anniversary of the Fair Housing Act of 1968, which outlaws housing discrimination and, with the 2015 Obama Administration Final Rule, requires jurisdictions to proactively address segregation and disparities in access to opportunity. The conference expanded into a two-day program: Hindsight as the all-day conference held on Friday, November 2nd, followed by Insight held on the following Saturday--a day of neighborhood walking and biking tours led by community groups to explore more equitable planning in practice and places across New York City.
This year's opening keynote "fireside chat," honoring the 50th Anniversary of the Fair Housing Act, featured an all-powerful woman of color panel, moderated by Daphne Lundi, DivComm's Vice Chair. These panelists were thought leaders in their respective fields:
Olatunde Johnson, a Columbia Law School Professor, brought her perspective regarding the law, congressional power and innovations to address discrimination and inequality;

Nupur Chaudhury, a program officer for the New York State Health Foundation, discussed health and planning lens and impacts of segregation on people and place;

Chanera Pierce, a Policy Coordinator for the Fair Housing Justice Center, a non-profit organization that conducts testing and fair housing advocacy at local, state, and federal levels;

and Maria Torres-Springer, then Commissioner of New York City's Department of Housing Preservation and Development, the nation's largest affordable housing agency currently leading Where We Live NYC: the City's comprehensive fair housing planning process to confront segregation, fight housing discrimination, and improve access to opportunity.
The conversation started by giving information on how the Fair Housing Act came to be in the context of Civil Rights History, what discrimination looks like today, and the many consequences, including adverse health effects, of continued segregation. It continued on to discuss the Where We Live NYC process and what the City of New York is learning so far about modern segregation and efforts to combat it. The panel left participants with hope by concluding with each of the panelists sharing advice on how young planners, especially from historically marginalized backgrounds, can help promote more equitable access to opportunity.
Diversity and Equity at the Center of Every Session and Activity
This year's conference hosted 28 dynamic sessions that spanned health, education, housing, design, parks, transportation, and policing. The conference organizers were very intentional in inviting and selecting proposals that would explore a variety of subjects, from new and diverse perspectives, and in interactive ways. The breadth of the breakout sessions available throughout the day were impressive, led by participants from across the country who are passionate about their subject matter. On many occasions participants were heard saying, "The hardest part about attending this conference is deciding which session to choose."
Sessions ranged from traditional panels, to interactive activities, arts and movement, and more:
In City Planning, Race, and Reproduction, Gabriella Nelson from the Philadelphia Housing Authority discussed the disparities in health outcomes for pregnant black women. Maternal and infant mortality are over 200% more likely amongst black women. In this session, Ms. Nelson recreated the historic link between planning and public health and advised planners on how to leverage tools to battle these disparities.
In D15 Diversity Plan: New Tools to Address School Integration, a dynamic panel consisting of planners, a NYC Department of Education representative, and a middle school teacher, discussed their community driven process to develop a plan for integrating one of the most socioeconomic and racially segregated school districts in New York City. This compelling session dug into some of the lessons learned as well as critical questions asked to ensure the planning process included all relevant stakeholders and all voices were heard.
Linking Equity and Sustainability for a Just Transition brought together climate and economic justice advocates to discuss breaking down silos to redress the complex legacy of housing inequities, land use discrimination, and environmental racism.

The connection between changing neighborhoods and complicated police/community relationships was explored in Copwatching In Gentrifying Neighborhoods, a workshop led by the Justice Committee. Participants examined the relationship between gentrification and police violence, and were also trained on how to monitor and document police activity to deter abuse as safely and effectively as possible.

Equity In Transportation: Lessons from Oakland shared best practices, techniques, and tools to engage with communities of color in collaborative and innovative ways. The Oakland Department of Transportation (OakDOT) joined the conference to share their ongoing work in reversing inequitable transportation outcomes in their city.

Equitable Data Practices for Housing Justice reflected on how data is used in social justice and organizing, as well as some of the pitfalls of over-reliance on data and algorithms. Panelists shared how the legacy of racism and discrimination could be undone through the strategic use of community-centered data.
In Public Input: Engaging People With Disabilities, participants learned practical tools and resources to inclusively engage people with disabilities in the public input process (using plain language, accessible documents, color contrast, etc.).

By and For Youth! Engaging Communities in Public Policy, speakers shared promising practices in using the Participatory Action Research (PAR) for youth participatory approach.

Home Rentals: The Short and The Long dove deep into the complex relationship between race, displacement, and homeownership. Panelists led a discussion exploring the lasting effects of short term rental, its correlation to gentrification, and how to mitigate effects.

During Contested City: Art & History at The Seward Park Urban Renewal Area, speakers discussed the history of the Seward Park Urban Renewal Area (SPURA) and their five year art and activism collaboration to create community-based planning in the area. This session aimed to assist others in making space for dialogue and consensus-building between very culturally diverse stakeholders.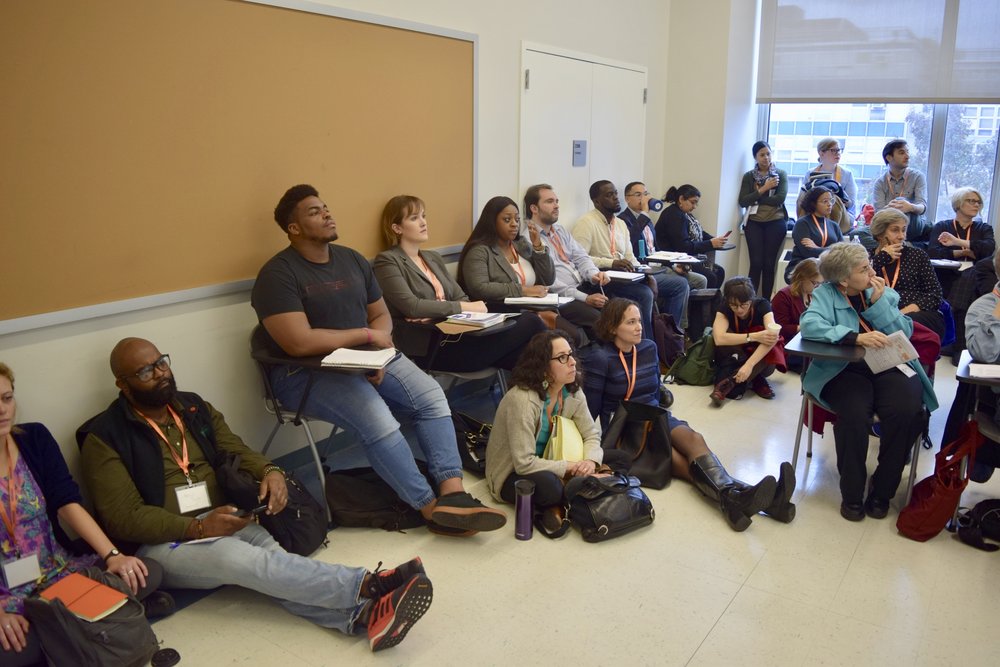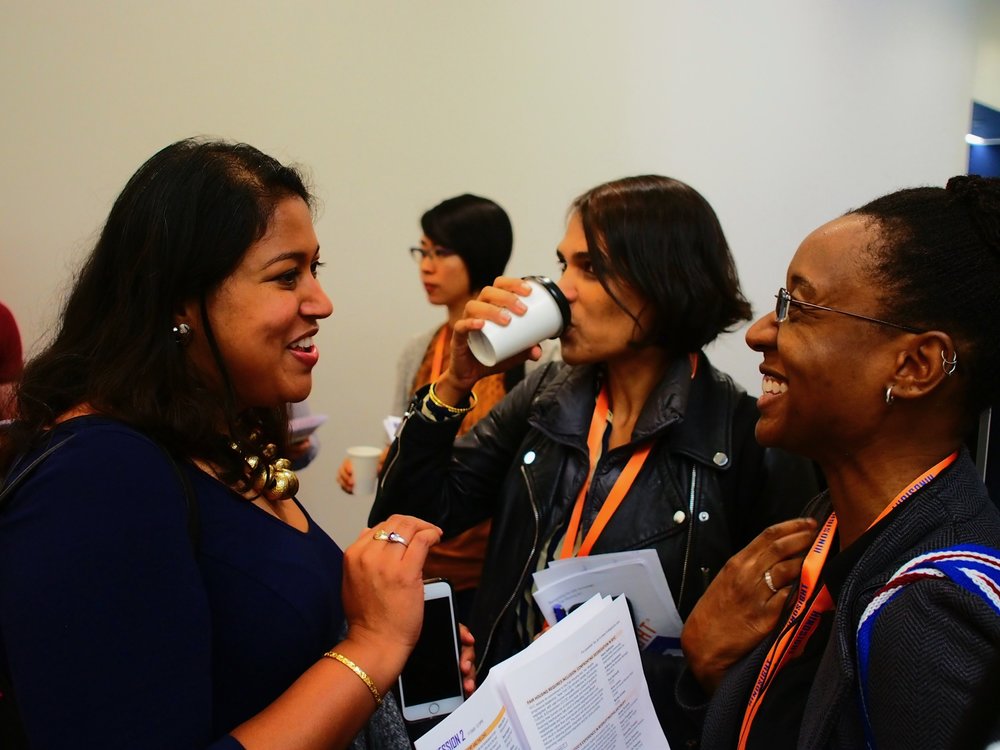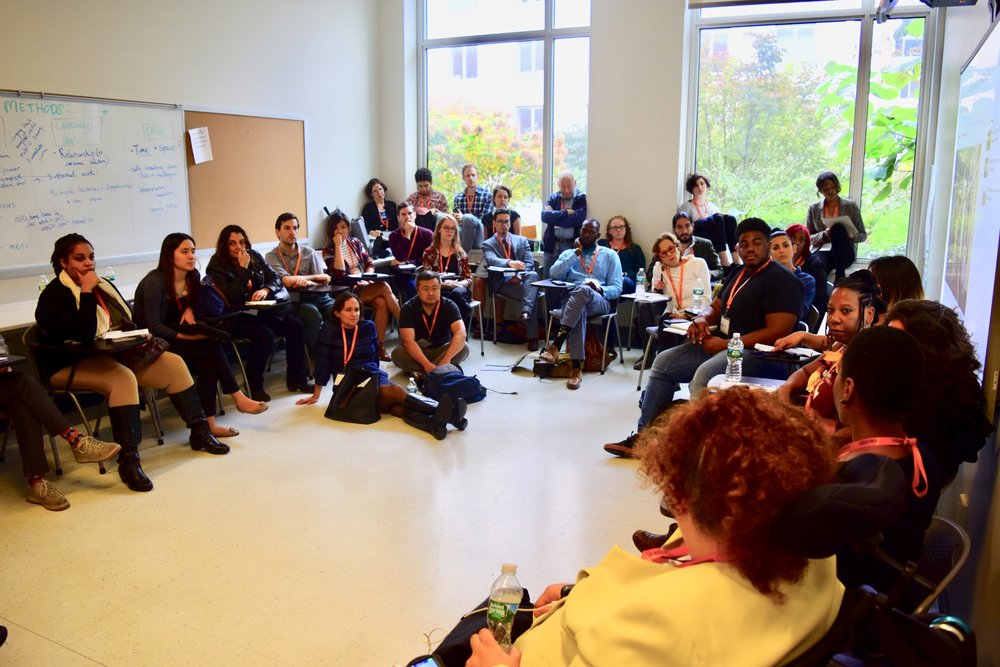 These were just a few among the many impactful sessions that were included in the conference. A majority of the sessions became standing room (or floor seating) only, as everyone crowded in to learn and share their expertise on the various topics. There was high energy and level of excitement as the hallways roared with conversation between sessions and during lunch (over locally- and MWBE-catered food).
Part of centering equity, the conference organizers were very intentional about investing in local Minority and/or Women Owned Businesses--from sourcing conference stickers, buttons, and bags; to catering breakfast, coffee, lunch, and desserts; to the happy hour beer garden location at the end of the conference. In addition, there were different showcases and activities in the lobby area accessible to all participants throughout the day:
Prefaces Story Booth: Prefaces is a guide that is being created by DivComm, which is both a creative endeavor and practical guide that addresses issues that young planners of color often face. Participants could record their experiences and share advice on how to overcome these obstacles.

Youth and Planning Education Showcase: Participants could see the games, interactive activities, and other tools that DivComm's Youth and Planning Education Team uses throughout the year to engage youth with urban planning and increase early exposure and recruitment of underrepresented groups to the profession.
Pop-Up Library Reading List: Participants were able to visit the pop-up library and peruse through planning-related books that challenge conventional thinking by presenting authors with critical, environmental, queer, speculative, and heterodox approaches to urbanism. The list of books were curated by DivComm members and was brought by the Uni Project, sponsored by the NYC Department of Transportation.
The next day, Saturday, the conference extended to the outer boroughs of Queens, the Bronx, and Brooklyn in the form of Insight neighborhood walking and biking tours:
A tour in Flushing, Queens, focused on the emergence of Flushing as a vigorous Asian community, a transportation hub, an example of religious freedom and diversity, and the geographic shift of its major industries and other related topics.

Later in the day, there was a Sunnyside Yard Walking Tour, which focused on the site of the master planning process launched last year. Participants walked the edges and bridges of the Sunnyside Yard and nearby neighborhoods in Queens to learn about the process and collaborated on ideas about how the future project can serve its surrounding communities.

On the other side of town, a bike tour in Mott Haven, South Bronx, was led by planners and artists to illuminate the impact of past, present, and future policies and plans on a dynamic yet changing neighborhood. It explored the complexities of celebrating the community's rich cultural history while planning for its expansive future.

Another walking tour along the Gowanus canal in Brooklyn explored gentrification and displacement within the community, as well as environmental remediation and citizen participation that is the focus of many local stakeholders.
Conclusion
The Hindsight Conference sold out and attracted and over 850 participants over the last two years from across the country and world, which speaks to the high and growing demand for centering urban planning around diversity and social equity. DivComm has created a new platform to reflect on the discriminatory history of planning and promote a more equitable profession and practice. It is the hope of our members that Hindsight can lead by example and inspire all urban planning related conferences be more thoughtful and intentional in centering diversity and equity. The successful completion of the second annual Hindsight Conference follows in the steps of those who pushed for civil liberties for all. Just like the milestones it commemorates, we hope Hindsight will continue to shape history for future generations and shift the way urban planners work with communities and promote justice.